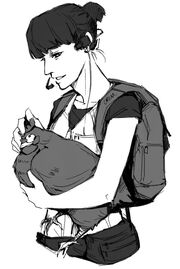 Archie Jensen

First Appearance

Last Appearance

Actor

Status

Deceased

Ethnicity

Unknown

Occupation

New Canton Runner (formerly Pandora Haze Scientist)

Appearance

Unknown
Race Missions
Edit
Season Two
Edit
She got her degree from Cambridge, which, according to Dr. Meyers, would be hard to believe upon first meeting her.
Archie is allergic to coriander
Archie has a slight Eastern European accent which could be Russian, Ukranian, Polish or possibly Romanian.
She thinks purple is a pretty word, but not a pretty color.
She used to date Pieter and had a boyfriend named Rufus before the apocalypse.
Ad blocker interference detected!
Wikia is a free-to-use site that makes money from advertising. We have a modified experience for viewers using ad blockers

Wikia is not accessible if you've made further modifications. Remove the custom ad blocker rule(s) and the page will load as expected.